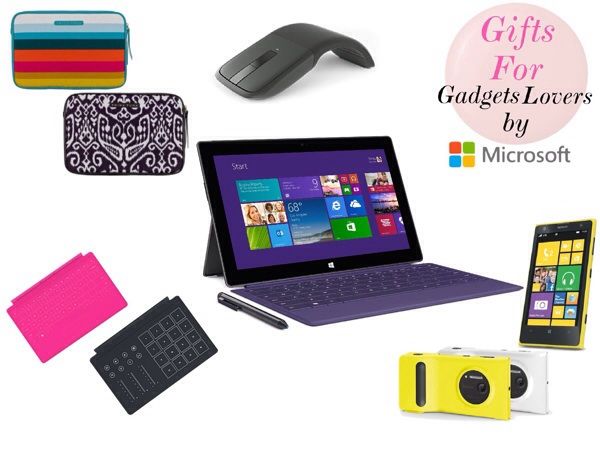 FTC- This is not a sponsored post, it's isa depiction of my experience during a media-exclusive event hosted by Microsoft.
I am not in any way being financially compensated for this post & all opinions are genuine and my own.
A little while ago I had the privilege to tour the new Microsoft store inside the Fashion Show mall in Las Vegas. We were introduced to all the amazing goodies available in the store,mothe staff, and everything that a Microsfot store offers not only to their clientele but to the community.
The Microsoft store allows you to go in and receive education and guidance about products and programs, it offers a space for local charities to work and be creative and you can even host birthday parties...how cool?
As a blogger, I'm very much involved in social media/internet and very interested in the coolest and latest gadgets, that are also stylish. After my experience at the Microsoft store, I chose my favorite gift-worthy items that everyone on your list would enjoy.
Surface Pro 2

- it's a tablet with all the benefits and functionality of a computer, plus more!
This is a great blogging tool, a great college addition, etc...
This device is highly customizable depending on your needs, an overall great buy.
Surface Pro Covers

- These little guys not only protect your device, they also get the job done. The job could be typing an essay or...creating your own music!
Nokia Lumia 1020

- In this day and age, a phone needs to amaze the buyer, it must offer not just the abilities es of a standard phone but much more beyond that, this phone does that. It keeps you organized and offers a camera as amazing as many DSLRs out in the market.
Hace un tiempo tuve la oportunidad de atender un tour de la nueva tienda Microsoft en el centro comercial Fashion Show Mall en Las Vegas. Durante este tour conocí no sólo los empleados y productos, también fue introducida a la gran cantidad de beneficia que las tiendas Microsoft ofrecen a el cliente y su comunidad.
Puede contar con esta tienda para arreglos tecnológicos, clases,y más. Fundaciones fruta tiras pueden usar el espacio para trabajar y hasta puedes hacer fiestas de cumpleaños.
Como bloguera estoy muy envuelta en redes sociales y necesito constante acceso al internet y dispositivos que sean efectivos pero bonitos. Después de mi experienca en esta tienda me enamore de muchos productos que cumplen esos requisitos y que también serían un muy buen regalo para tus amigos y familiares.
Surface Pro 2
- esta tableta me encanto! Hace de todo, tiene las mismas capacidades que una computadora y muchísimo más. Es una gran herramienta para trabajar, estudiar y más.
La puedes organizar dependiendo en tus necesidades.
Surface Pro Covers
- Estas cubiertas no sólo protegen tu tableta, también cumplen con un trabajo. Ese trabajo puede ser tan simple como el de un teclado o tan complejo como ayudarte a crear tu propia música.
Surface Pro Sleeves
- Hay muchas opciones disponibles, de estampados y colores geniales. Diseñadas por marcas muy prestigiosas.
Nokia Lumia 1020
- Este celular no es sólo un teléfono, cumple con gran cantidad de trabajos y se puede arreglar de acuerdo a tus necesidades y personalidad. La camera es increíble.