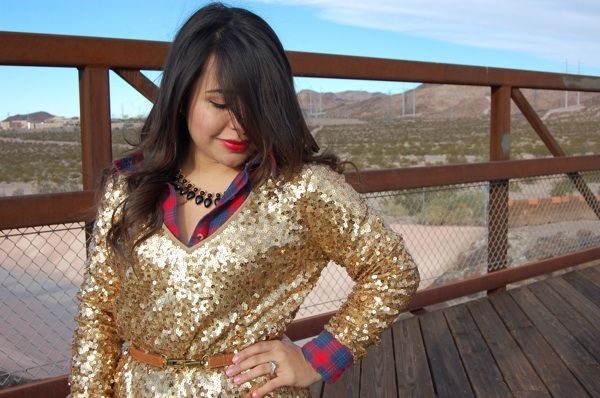 There are many terms within fashion I adore, they signify or represent the perfect detail, trend or styling choice that suits me for a specific day, event or state of mind. There are the ones I like, the ones I love, and the ones I hold dearly close to my heart, such as the LBD, and as displayed in today's post...Juxtaposition.
It's in my essence, to love and mix opposites. Perhaps, it's my age, which more often than not makes me a slave to indecision & that's frightening, extremely so!
But, not when it comes to Fashion, and isn't that reason enough to love it? Fashion has no rules, expectations, guidelines, timelines, etc... It is what you make it & how you choose to feel it, when putting together this outfit my indecision proved mighty & quite glam. Not knowing whether to wear a casual plaid flannel or luxe sequin dress turned into one of my favorite outfits, yet! I hope you all enjoy it ❤️
Hay muchos factores y términologia de moda los cuales adoró, ellos representan el detalle perfecto, la tendencia ideal u opción de estilismo apropiada para cualquier ocasión, evento, o estado de ánimo. Entre estos términos se encuentran aquellos que me gustan, aquellos que amo y los cuales se han adueñado de gran cantidad de mis afectos. Entre los más adorados se encuentra el LBD (el vestidito negro) y como lo ven en la pinta de hoy, el término conocido en Inglés como, Juxtaposition (Yuxtaposición).
Sinceramente, me encanta mezclar cosas opuestas, mis gustos son extremadamente distintos entre sí. Tal vez es mi edad la cual en varias ocasiones me vuelve esclava de la indecisión, lo cual me llena de miedo. Pero en cuanto a la moda, es un miedo inexistente, lo cual es razón suficiente para amarla como la amo. La moda no tiene reglas, expectativas, horarios, etc... Es simplemente lo que tu quieres que sea, es lo que tu eliges que sea, lo que tu sientes. Cuando puse estas prendas en una combinación, mi indecisión se trasformó el algo muy glam! Sin poder decidir entre una camisa informal, a cuadros o un vestido súper luxe de lentejuelas , decidí mezclarlos y cree lo que se ha vuelto uno de mis outfits favoritos. Espero les gusté

💋