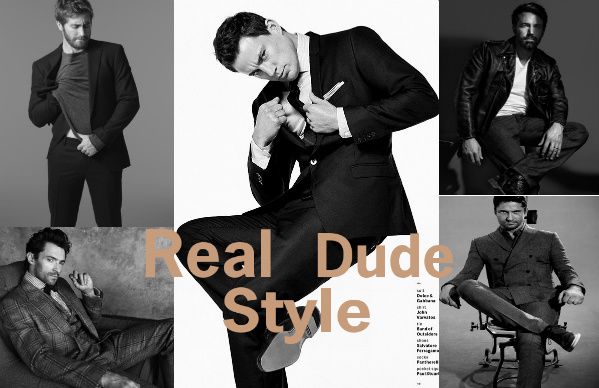 I have always loved a well dressed man, I think it roots from my daddy. All my memories of him paint him impeccably dressed, wearing a three piece suit for no reason, on a Sunday, always mixing textures, prints and exquisitely timeless pieces.
I constantly browse Tumblr & Street Style blogs and while I come across gorgeous ensembles, I realize that lots of these outfits are not affordable, relate-able, practical or universally flattering. Just like we have seen in women's fashion for, what feels like forever, men's fashion & editorials are presenting us with the same body type, and clothing that only looks well on those with that specific body type.
I've yet to see that body type walking through my local target or at the gym. I guess what I'm saying is that, yet again, the fashion industry has created unrealistic & unattainable standards.
I am a Military spouse, constantly walking around a Military facility filled with men out-numbering the women. Men of different backgrounds, tastes, preferences, etc..
A diverse group, you get my drift! I can tell you that most of these guys are not built to wear super skinny, cuffed-ankle pants, nor do they want to.
Trust me, I have asked!
So starting today, I plan on blogging about style for real dudes!
(the super tall, slender, models are also real. Don't get all literal, it's just an expression)
For the photo above I chose guys whom are about the size of the average American man, a bit bulkier than a runway model, with muscle mass & man curves?
I think I just coined that term. Man Curves!
I also like the way these guys dress, They do so for comfort & practicality without letting go of the chic!
The first post? You ask?

Real Dude Style Icons
In the comments below, tell me who's style you admire?
maybe, there is a celeb you wish your guy would dress like?