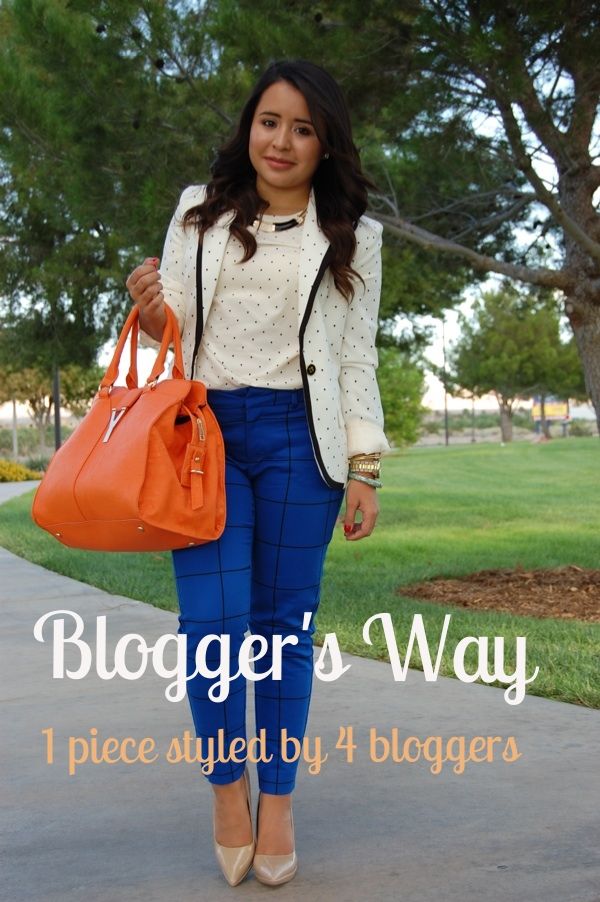 I have never understood why some people get upset when they see somebody wear the same piece of clothing as them, that actually excites me & inspires me! As soon as I spot someone with the same item I have in my closet or on my person, I smile at them & compliment them on their vision for that piece. I also, immediately start thinking of how I can re-create their outfit with my own personal touch!
Of course, seeing gorgeous blogger gals wearing one of my favorite pieces of the season

(Target's blue grid pants)

made me so giddy, I had to feature them on Camila's Closet and tell you all, why I love their looks!
SPANISH
Yo nunca he podido enteder porque a mucha gente le disgusta ver una persona con las mismas prendas que ellos tienen puestas. A mi me encanta ver la creatividad y la manera en la cual otras personas la expresan por medio de una prenda. Ver el contraste entre ideas es genial. A veces me gusta recrear la pinta que lleva la otra persona, a mi manera. claro.
Asi que cuando vi otras blogueras usando los
pantolones azules de Target
, que adoro, quize compartirlo con ustedes y contarles porque me gustan sus outfits.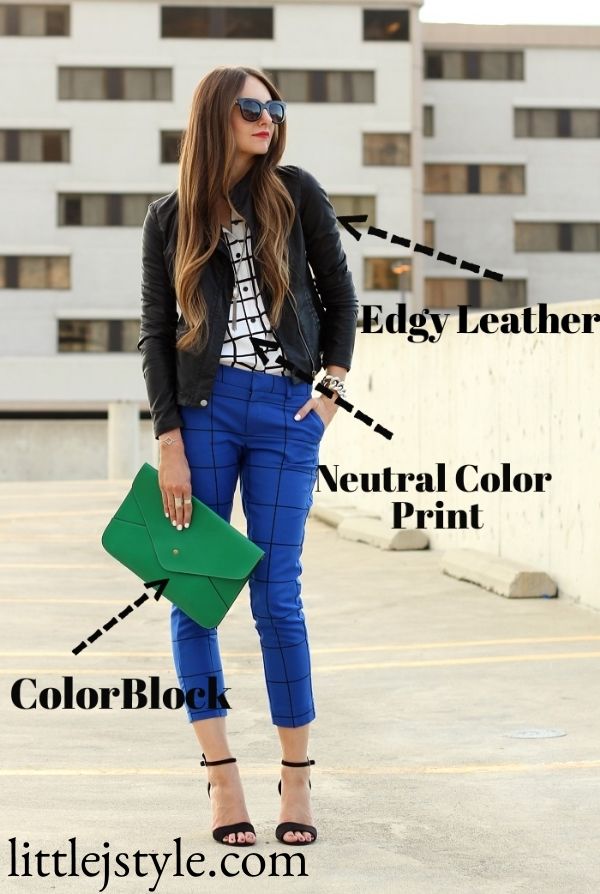 I love seeing an

outfit

made up of lots of pieces, I become like the little girl in the AT&T commercial, "We want more, We want more" I love every piece

Jackie

is wearing, but what I really love is, the way It all came together.
Wearing the same print as your "main" piece can go wrong very quickly, but when you change up the color palette for something as sleek, neutral, and timeless as black and white, you automatically look polished

The fit of these slacks can be very formal, however, she transformed them into a Cool-Girl item just by adding a super edgy leather jacket.

Color-Blocking makes this look super fun & flirty.
El outfit de Jackie me encanta porque a pesar de tener tantas prendas, todas se complementan a si mismas, crean una grand armonia de estilo.
Combinar estampados con una prenda de colores vivos y una de colores neutrales se ve super chic.

El corte de estos pantalones es muy formal, ella los transformo into una pieza jovial solo agregando una chaqueta de cuero super cool.

Usar la tendendia Color-Blocking agrega alegria a cualquier outfit.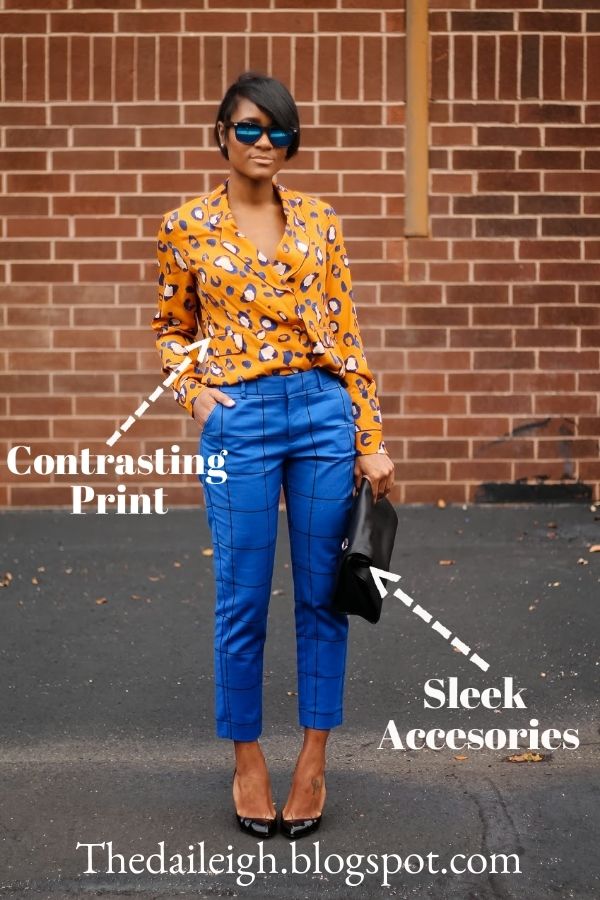 How many times have I told you about my love for mixed prints? I love this look by

Ashleigh

. This

combination

never even crossed my mind, I love how adventurous she is. I also really like the way she incorporated classic yet cool accessories!
A great way to Color-Block or mix prints is to do it with

colors that are on opposite sides of the color wheel

. Try this theory with different opposing colors and you'll be surprised how well they look together.

Wearing a blouse tucked into slacks can be very formal, however, switching the blouse for a blazer offers an element of surprise.

Her super cool bag adds some trendy edge to elevate the look.
la mezcla de estampados me encata y Ashleigh tiene un estilo tan atrevido...divina!
Se ve bien porque:
la mejor manera de mezclar colores es usando

colores que se encuentran en lados opuestos de la rueda de colores.

Ella uso un blazer en vez de una camisa adentro de los pantalones lo cual es inesperado y le da un gran toque a esta pinta.

Me encanta el bolso y zapatos, son clasicos pero modernos. Una gran mezcla que simpre funciona.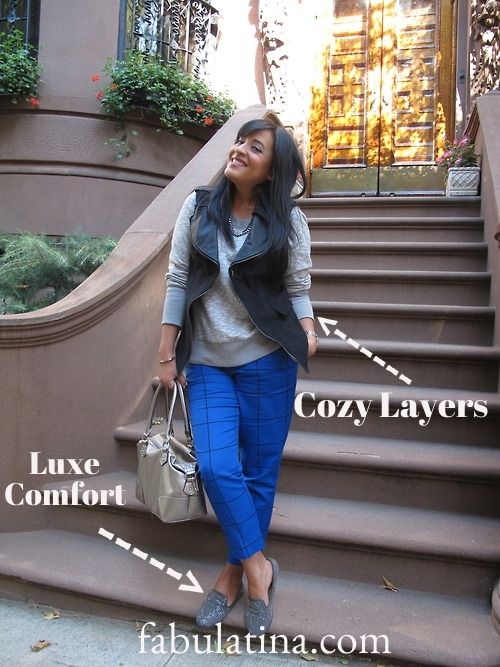 Nashelli's

look makes me want to go to a cozy, Central Park brunch, I think it's so chic!
She put together a great transitional

outfit

for the very indecisive NYC weather, every piece is gorgeous, has it's own vibe, yet they look like they were made of each other.
Juxtaposing casual layers with a classic, such as slacks is a great way to transform this item.

She elevated this super cozy look with, what else? Glitter, love it!

Also, the vest is super cool.
El look de Nashelli me da ganas de tener un cappuccino y relax en Central Park. Es como muy Carrie Bradshaw y es genial para el clima indeciso de NY. Cada prenda es preciosa y tiene vibras muy distintas pero juntas crean una gran pinta.
Usando prendas comodas y casuales con prendas clasicas como pantalones cigarrillo transforma los pantalones.

Al agregar zapatos de escarcha el look em vez de casual se vuelve glam!

Me encanta el chaleco, es super rocker, cool.
Shop the look