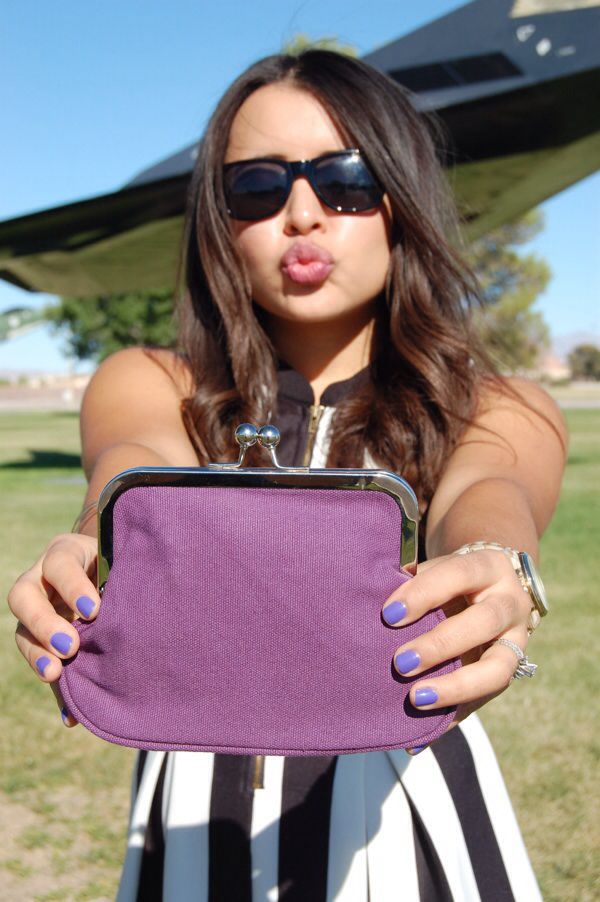 FTC: This is a compensated/sponsored campaign in collaboration with Latina Bloggers Connect and The Allstate Foundation.
My hope for this blog has always been to inspire, empower, and give something to my readers; even if that something is as small as a new way to wear your printed skinnies.
Today my wish to do all the things mentioned above has come true thanks to,

All State's Purple Purse Foundation
The All State Foundation supports victims of domestic violence and provides them
with essential financial knowledge, skills and resources necessary to thrive and succeed. This foundation also wants to encourage everyone to talk openly about domestic violence and financial abuse. They believe that a great way to approach the subject is by putting the power literally in people's hands.
I'm wearing a purple purse today because, a purse is a symbol of a woman's financial domain and purple is the color of domestic violence awareness.
Here are some important facts about the Purple Purse Foundation and domestic abuse:
1 in 4 women become victims of domestic violence in their lifetime, that is more than breast and ovarian cancer.
More than 1/3 of American have never discussed this issue, most agree that it's a difficult topic to talk about.
Lacking financial knowledge & resources is the number one indicator of whether a victim will stay, leave or return.
For every purple purse passed through the end of October, All State will donate $5 to YWCA. Up to $350,000 will be given towards programs dedicated to help domestic violence survivors.
I have received a physical purple purse to pass on to another woman, in hopes of it reaching as many hands as possible and making a difference. My purse has a code inside which will collect money every time a new recipient registers it on the

Purple Purse site

.
Here's where you come in! The photo below is a code to a virtual purse, you can enter this code
here
and you will be triggering a $5 donation by doing so! How awesome is that?
SPANISH
En el día de hoy estoy usando un
bolso morado
, el cual representa una gran misión. Este bolso es el símbolo de la
Fundación Bolso Morado de All State
.
Esta fundación recauda fondos para educar y ayudar a personas víctimas de violencia doméstica. la fundación provee conocimiento y herramientas esenciales para que esta mujeres puedan salir de estas situaciones y sean exitosas.
Yo tengo la oportunidad de pasarle este bolso a otra persona, cada vez que el bolso se pase se registrará en
esta página
y esto provoca una donación de $5 para compañías que quieren terminar la violencia doméstica.
Sin tener un bolso tu puedes ayudar! Ve a esta
página
y pon el código que vez en la foto y con esta simple acción estarás donando $5. Dale! Es súper fácil.