Ever since I saw photos of

Victoria Beckham & Harry Styles

, I fell in love, I suddenly needed to have the print in my wardrobe. I knew the Burberry-sized price tag would be less enchanting than the adorable print, so I ventured out to fabric stores and asked the Internet for mercy on my "heartless" soul. I almost gave up, until I accidentally walked into my local mall through a Kohl's & saw this almost identical replica, which is not produced by Burberry in a peach shade & I didn't hesitate for even a minute.
P.S. Contrary to popular belief, Harry did not steal Victoria's look! He wore the blouse months before her. Just defending my beau's honor.
What do you guys think of this look?
Spanish
Desde el momento que vi estas fotos de
Harry Styles & Victoria Beckham
con camisas de estampado de corazones, me enamore. De repente la blusa se volvió una obsesión y una necesidad, mi único problema...el precio.
Me dedique a buscar una versión similar por internet y hasta fui a tiendas de tela para tratar de hacer la camisa yo misma, pero nada. Hasta qué un día entré a Kohl's por accidente y encontré esta blusa de la colección de Lauren Conrad.
No sólo tiene el estampado pero viene en un color que Burberry no ofrece, me encanta!
¿Que les parece este outfit?
Coat/Abrigo: NY&Co
Blouse/Blusa: Lauren Conrad for Kohl's
Pants/Pantalones: Aeropostale
Clutch/Sobre: Steve Madden
Braclet/Pulsera: Charlotte Russe
Rings/Anillos: H&M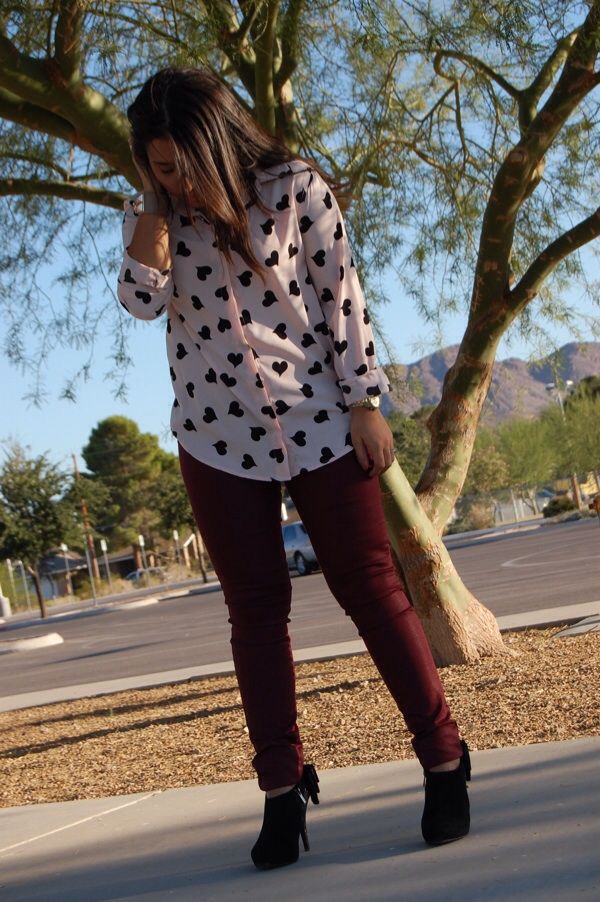 I'm also loving these stack-able rings, I can't wait to get my hands or rather, fingers on lots of other versions!
Also, I can't believe my poor phone has a boo-boo!
También me encantan este tipo de anillos y estoy ansiosa por encontrar más modelitos. Que pesar con mi pobre iPhone, tiene un golpecito horrible.
a Rafflecopter giveaway