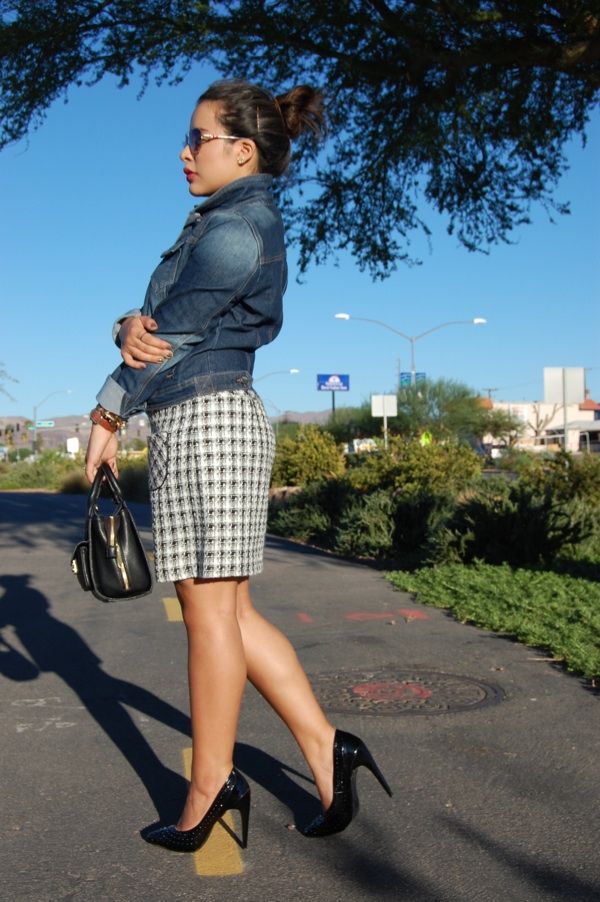 Although, I've already purchased some cozy knits, sweatshirts, cashmere tights, etc.. I'm still not able to wear them, which is why I need to rely on the most effective/basic transitional items. One of them is , the denim jacket, denim everything is actually super trendy this year.
A denim jacket can be boxy, bulky, unflattering & everything but chic! However, if you play your cards right, it can make a look. Here are some tips.
Go for the darkest blue jean wash (not black). This is versatile, dressy & slimming!
Pair the boxy cut of a denim jacket with sleek pieces like a shift dress or very feminine silhouettes, like a skater dress.
This very grungy/casual texture can look polished with the help of fabrics like, chiffon, lace, silk, tweed, etc...
A pesar de haber comprado prendas de lana y cashemere no me las he podido poner, el clima todavía esta un poco muy cálido, al mismo tiempo está demasiado frío como para mangas cortas y cosas así.
Por lo cual tengo que respaldarme en la ayuda de prendas de mitad de temporada, como una chaqueta de mezclilla. Esta prenda puede ser pesada, hacerte ver cuadrada y tiene muchas cualidades que la hacen todo menos chic! No te preocupes porque hoy te voy a dar unos consejitos para verte divina en una de estas chaquetas.
Compra el lavado de jean más obscuro que encuentres (no negro) este color es versátil, un poco más elegante y te hace ver un poco más delgada.
Ponte este corté como tan cuadrado con prendas muy femeninas como vestidos y faldas.
Para qué esta prenda no se vea como tan informal y desarreglada puedes ponértela con telas como el chiffón, seda y encaje
Jacket/Chaqueta: DKNY
Dress/Vestido: Laundry by Shelli Segal
Shoes/Zapatos: Local Boutique
Bag/Bolso: 3.1 Phillip Lim for Target
Arm Party: Charlotte Russe
Sunnies: Steve Madden