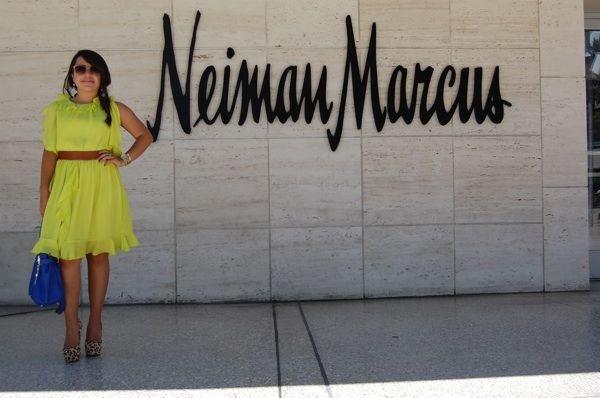 This past Wednesday I was lucky enough to attend a luncheon hosted by Neiman Marcus at the Fashion Show Mall in the Las Vegas Strip, several other bloggers & myself were treated to some wonderful food & lots of designer eye candy. The wonderful team at Neiman Marcus styled a whole fashion show & showroom displaying all of the hottest Fall 2013 Trends, there were so many gorgeous looks & items for us to photograph, I've decided to split this post into two. Today, I'll be sharing the outfit I wore & on Wednesday I'll be posting a trend report. Hope you like it!
P.S. I wanted this Prabal Gurung dress long before the collection for Target was even in store & couldn't get my hands on it, but about 3 months later I found it in a clearance rack for $10!!!
SPANISH
El miércoles pasado tuve la oportunidad de atender a un evento organizado por Neiman Marcus en el Fashion Show Mall en Las Vegas. Me consintieron con una comida exquisita y con la oportunidad de ver prendas y accesorios absolutamente preciosos. Durante el evento el equipo de ventas y relaciones públicas de la tienda organizo un showroom y desfile para mostrar la tendencias de moda de la temporada otoñó 2013. Tome tantas fotos las cuales serían excesivas en un solo post, así que el miércoles voy a publicar las fotos representativas de las tendencias que vienen para la temporada entrante. Espero que disfruten los dos posts.
P.S. Quise este vestido de Prabal Gurung mucho antes de que la colección de Target estuviera disponible pero cuando llego el día, estaba agotado. Tres meses después lo encontré en promoción por $10!!!
Dress/Vestido:Prabal Gurung for Target
Shoes/Zapatos: Steve Madden
Belt/Cinturón: Levi's
Earrings/Aretes: F21
Sunnies: Francesca's
Bag/Bolso: Steve Madden