Photo Credits:
Nany's Klozet
.
Zimbio
We Heart It
Polyvore
One of the hottest trends this summer & one that is strongly transitioning into fall is, The '90s Comeback. If you're wondering what this trend looks like, I can almost guarantee you've already seen it all over the beach, amusement parks or better yet,Tumblr. I've personally seen the trend emulated by celebrities and real girls alike; I created this post in hopes of inspiring you to give this trend a try, I've come up with some tips to help you look super cool in your acid was cut-offs.
The look you're going for is a well balanced mix between the decades most influential Hip-Hop icons & the "It Girl" of the 1990s,
Kelly Kapowski
. You want your ensemble to have a bit of unintentional sexy & a lot of urban edge.
If you're still wondering how to pull this look off, worry not! Check out the kit below, which includes a collection of all the essential '90s chic items.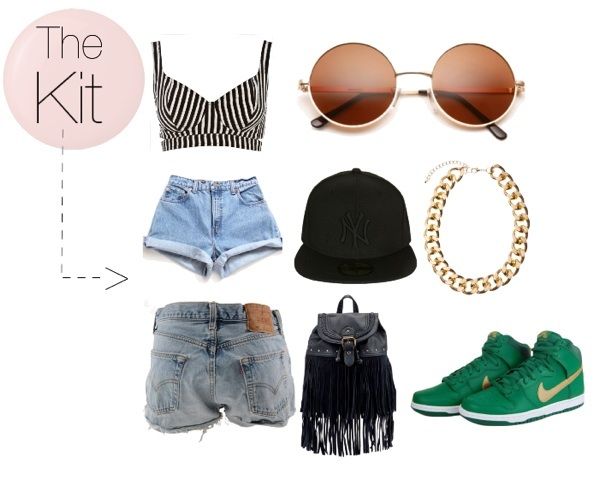 The Shorts
You must have. A pair of vintage wash denim cut-offs, DIY them for a touch of Punk. (mid drift bearing ones for extra credit)

Great choice

really cool pair
The Top
A mid drift bearing top was the staple of the '90s but, the bustier was definitely the trendiest item & it has made a major comeback, go find yourself a bustier that Edward James Olmos' rendition of Mr. Quintanilla would certainly hate.
Love this one!
The Eyes
A pair of round Sunnies with gold metal detailing was seen on the decades most popular fashion icons & you will find lots of cute variations in all fashion retailers.
Try these
Splurge on these.
The Final Touches
A great leather back pack gives your look authenticity. You can find awesome ones at vintage or thrift shops.
A flat brimmed snap back, do I need to justify it? They're just cool!
Bright colored high top sneakers are comdy, cool & always trendy, I am lusting over

these

The Chain RUN DMC, anyone? The chunkier louder, the better. HRH Collection has lots of chic variations,

check them out.






Nany's Klozet