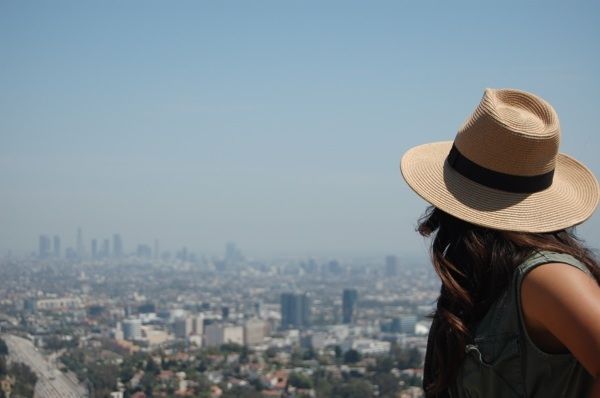 Hello!
I was lucky enough to have family visiting from New Jersey for two weeks; as California is a few hours away, we decided to have a Summer road trip & hit some of Los Angeles best sights, as well as, Disneyland (post coming soon). Unfortunately , the Mr. could not join us since the Air Force is not the type of job you can just "call out" of. I hope we'll be able to have a little Cali couple's time soon.
About the Outfit:
I wanted to make sure my outfit was comfortable & versatile, which I think is the formula to apply yourself to when packing for a vacation. You never know where you'll end up & it's great to have your outfit transtion from place to place & amongst different activities seamlessly.
I was mindful of the lenghty walks & hours under the sun that vacations often entail, which is why I opted for neutral colored flat shoes & a big hat to protect what I like to call "my future wrinkles".
Hola!
Tuve la fortuna de tener a mi familia de visita por dos semanas, siendo que California queda a solo unas pocas horas decidimos hacer el viaje.Visitiamos los mejores puntos turisticos en Los Angeles y por supesto Disneyland (Pondré el post de Disney pronto). deasfortunadamente, el Mr. no puedo acompañarnos por cuestiones de trabajo, ojalá pronto podamos visitar juntos.
Sobre mi Pinta:
Mis prioridades con este outfit fueron la comodidad y versatilidad, lo cual yo creo es la formula perfecta cuando de empacar se trata. Cuando estas de viaje no tienes idea donde te lleva el día, es excelente tener pintas que te lleven de una actividad a otra sin

ningún problema. Tuve en cuenta las largas caminatas y horas extenuantes que pasas bajo el sol , por lo cual opte

por zapatos planos y un sombrero grande para proteger "mis futuras arrugas".
Hat/Sombrero: F21
Dress/Vestido: Wet Seal (no longer available/ no esta disponible)
Vest/Chaleco: Charlotte Russe