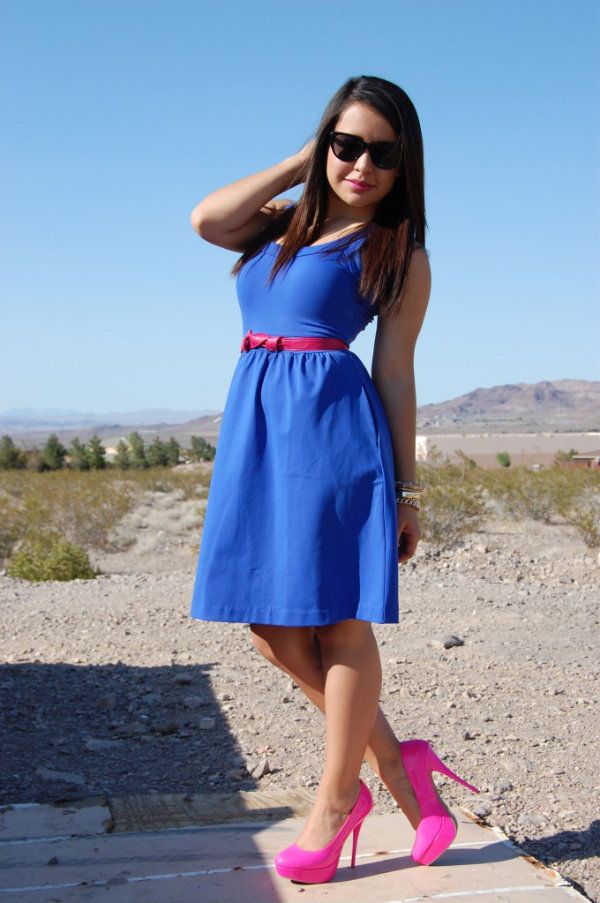 A little while ago I stepped into T.J.Maxx in search of scented candles (super cheap there) & as always I was to tempted by the possibility of finding an amazing designer piece at an incredibly low price, so I went on searching and found this lovely looking rack...It hung dresses in all summery colors in what looked like the most flattering shape possible. I headed over and picked up an orange, blue & pink dress, I looked them all over to find that they were by Cynthia Rowley (whom I adore) and they were only $30...WHAT? I ended up going with this gorgeous cobalt blue & my friend Glo from
Glo's Blog
coincidentally chose the same one. We decided to colaborate on this post and show all of our readers two different ways to wear the dress, head over to her blog & let her know what you think about her outfit!

Spanish
Hace un tiempo fui a T.J.Maxx para comprar un velas perfumadas (son super baratas en esa tienda) como siempre que voy la tentacion fue demasiado para mi, el pensar que en alguna parte de esa tienda puedes encontrar una prenda de marca por un precio increiblemente me causo gran emocion y por lo tanto me fui en busca de algo. Al momento menos pensado vi unos vestidos en colores super alegres en un corte super alagador y los tube que "analizar". Cuando les puse mas atencion me di cuenta que era de Cynthia Rowley (quien me encanta) y solo costaban $30...QUE? Asi que elegi mi color favorito y por coincidencia mi amiga Glo de
Glo's Blog
compro el mismo, hoy decidimos publicar un post con el mismo vestido para mostrarles 2 manera distintas de ponerse el vestido. Visiten el blog de Glo y diganle que les parecio su pinta.
Dress/Vestido: Cynthia Rowlet via T.J.Maxx
Belt/Cinturon: T.J.Maxx
Shoes/Zapatos: Charlotte Russe
Bag/Bolso: Thrifted-Tienda de Segunda
Bracelets/Pulseras: Charlotte Russe & H&M
Sunnies/Lentes: Boutique